This post is part of a linkup post here: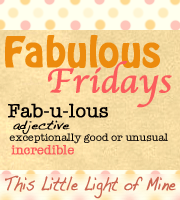 Here are some things that are FABulous in my life right now...
It is a fantastically gorgeous day here by the ocean. I am oh so lucky to live by the water.
(picture taken in April...I know, I know)
This time next week, I will be on the deck of a cruise ship that will be embarking on a 7-day trip from Boston to Bermuda...
Oh, and did I mention that the cruise is over my BIRTHDAY? July 14th, in case anyone wants to send presents. Or comments. Or typed love.
Another thing that is very fabulous is that it is my very FAVORITE holiday in 3 days. Every year, my family helps run their town's 4th of July festivities, which include a parade, field races, a pie-eating contest, and some of the very best fireworks in the U.S. of A. They rival Boston's 4th of July. Seriously. We always have a giant family beach day and cookout before we all walk down and watch the fireworks together at a local park. Some of best memories are from the 4th.
xoxo Kate